National Geographic on C1 CMS
National Geographic launches competition website built by Rampit, a subsidiary of The Common Pool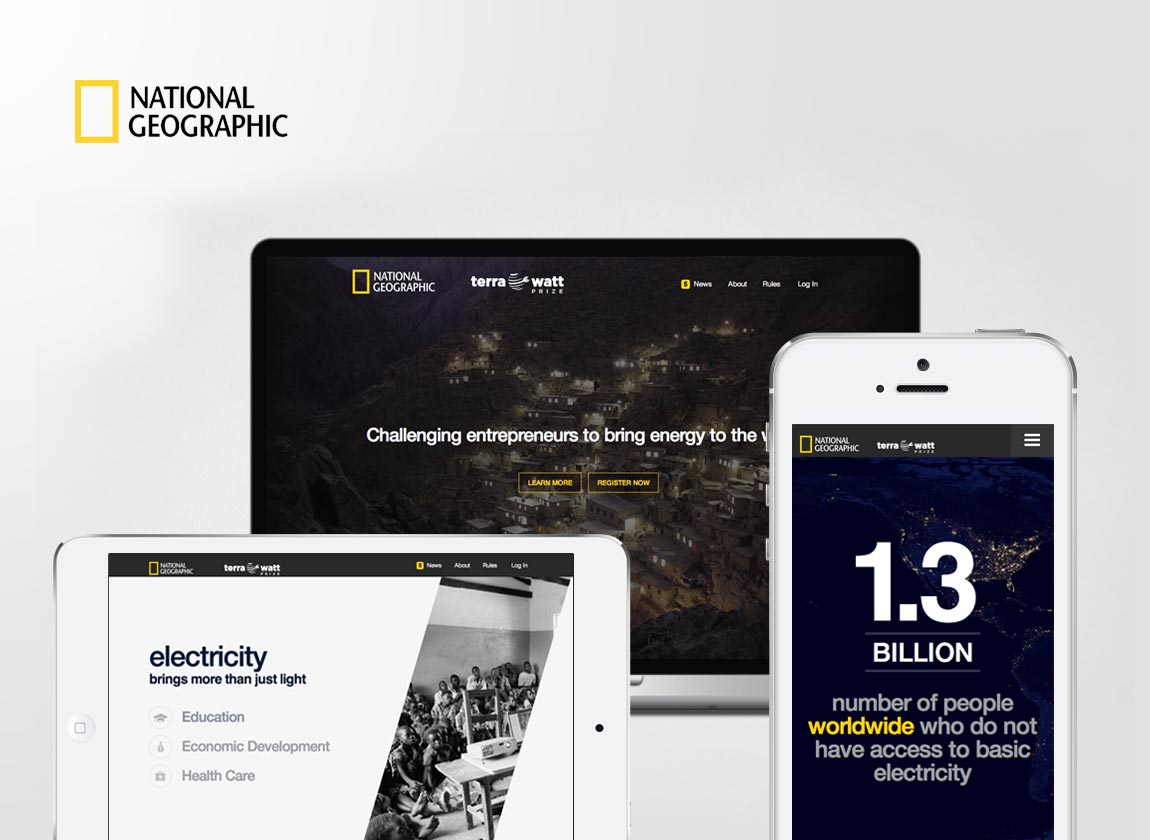 Beautiful simplicity. Subtle interactivity. National Geographic's Terra Watt Prize website, marries the best of design, content and functionality. It also demonstrates what can be achieved when C1 CMS is your CMS of choice.
C1 CMS fit for purpose
All websites should have an easy-to-use, flexible and highly functional CMS that provides a satisfying user experience for web editors. These were some of the key requirements RAMPIT and their parent company, The Common Pool, sought in a potential CMS for the Terra Watt Prize website.
"I researched what was available for .net based open source CMS and found C1 CMS being recommended in various forums. I then went to your website and researched it's capabilities and decided that it would be the best fit for RAMPIT. We are very happy with the way it has turned out and have enjoyed using C1 CMS as a component of our work," said RAMPIT Co-founder and President Shane Eggerman.
Competition builders with impressive client base
It's not surprising Mr. Eggerman and RAMPIT co-founder and CEO Jaison Morgan leapt at the opportunity to work with National Geographic and create their online competition system. It's what they do best. They're no strangers to building similar systems. The list of organisations they've worked with is impressive and includes:
The Bill and Melinda Gates Foundation
The Carnegie Corporation of New York
The U.S. Department of Commerce
The Government of Scotland (Office of the First Minister)
The Government of the United Arab Emirates (Masdar Corporation)
Massachusetts Institute of Technology
Walt Disney Corporation
Expert leadership
The resume's of RAMPIT founders make for impressive reading. The BBC has labelled Mr. Morgan the 'world's leading expert' in designing trials to compare innovative technologies. He's been used as an advisor to the White House, the First Minister of Scotland and the government of Abu Dhabi. Mr. Eggerman has over 20 years experience in the Information Technology industry and is an expert manager and mentor of young developers. Both men are committed to creating innovative solutions and providing useful experiences via the online competition platforms they build.
C1 CMS now RAMPIT'S CMS of choice
Client satisfaction, seamless integration with the competition system and comprehensive supporting documentation have convinced Mr. Eggerman that C1 CMS is a product they'll be sticking with long term. Already a website has been created for the Open Government awards. One for Hewlett Foundation should go live in May. Another competition site has been built for the SC2 Challenge, which grew out of an Obama administration initiative.
"I have only begun to scratch the surface of what is available in the C1 CMS product. I believe it's a great product and would highly recommend it to any .net based site," he said.