Build richer web experiences with version 4.2
Editor experience significantly enhanced.
Faster and more intuitive content management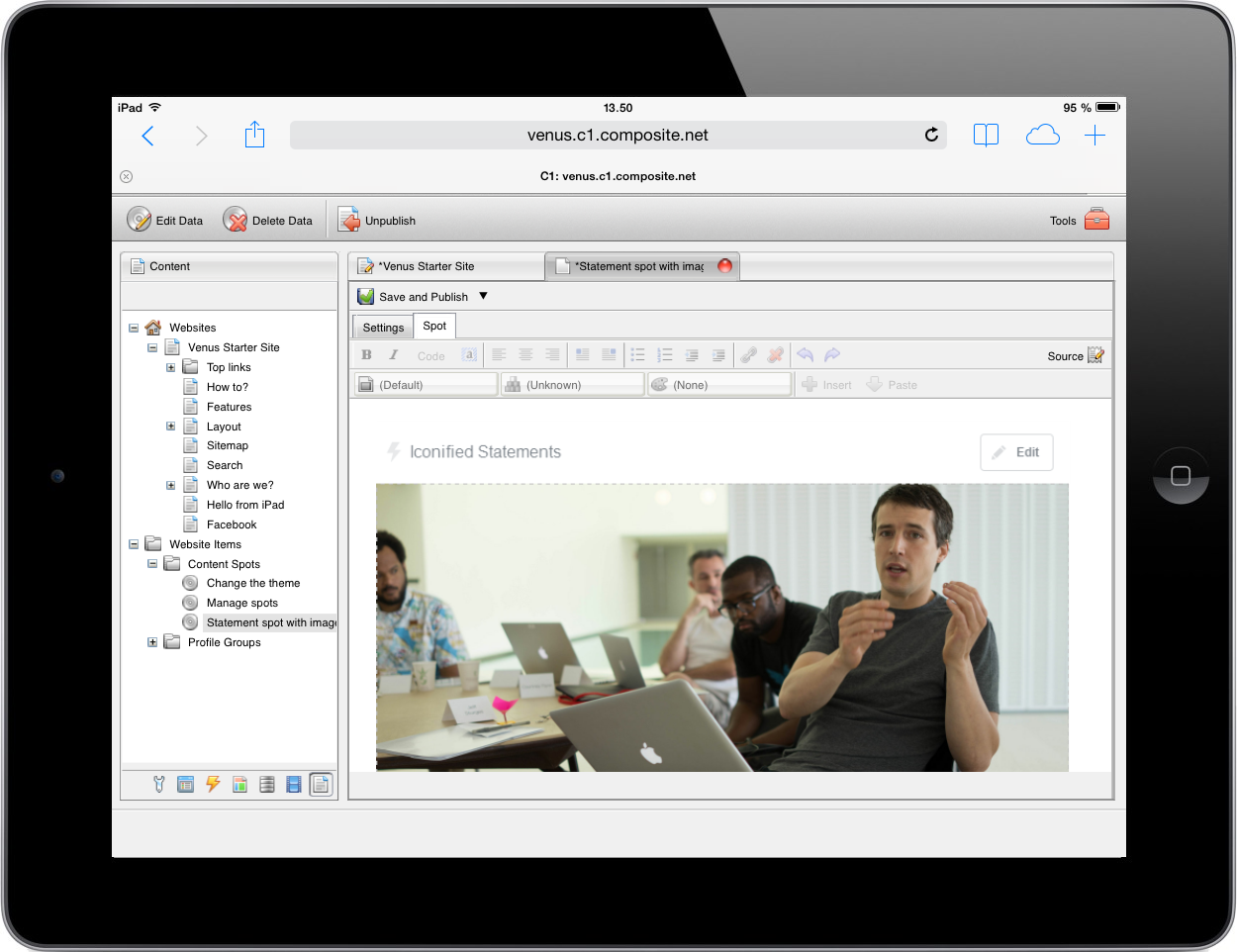 Simplified editing. Improved WYSIWYG experience. Ready-to-use mobile-first starter sites. Editing on iPad. The list of enhancements to C1 CMS, continues to grow with each new release. Our latest release, version 4.2 takes this to a whole new level.
Build richer web experiences
This time round we've specifically focused on improving your editing experience by making the content creation and editing process faster, more intuitive and ultimately more satisfying. This will enable you to build much richer web experiences for visitors to your website.
"We take the author experience extremely seriously and are always striving to make our CMS as simple and user-friendly as possible. If we improve an editor's processes and the way they go about creating and maintaining their content, we can effectively reduce the time it takes to complete a task," said Orckestra Founder and Product Manager, Marcus Wendt.
More importantly, we want to put a smile on your face while you work, or at the very least avoid a frown.
Locate elements that need updating easier
This has been made possible thanks to a simplified interface for changing CMS Function settings and 'pixel perfect' previews of CMS Functions in the Visual Editor. Locating dynamic content elements has never been easier. You'll see a simple form when tweaking settings.
Enjoy a better WYSIWYG experience
Because version 4.2 can analyze a website's HTML templates and CSS it doesn't matter where an editor places content in the Visual Editor – column width will automatically be sized to match the live site. Editors are shown how sentences will wrap, rich in-content elements will be sized and images will fit.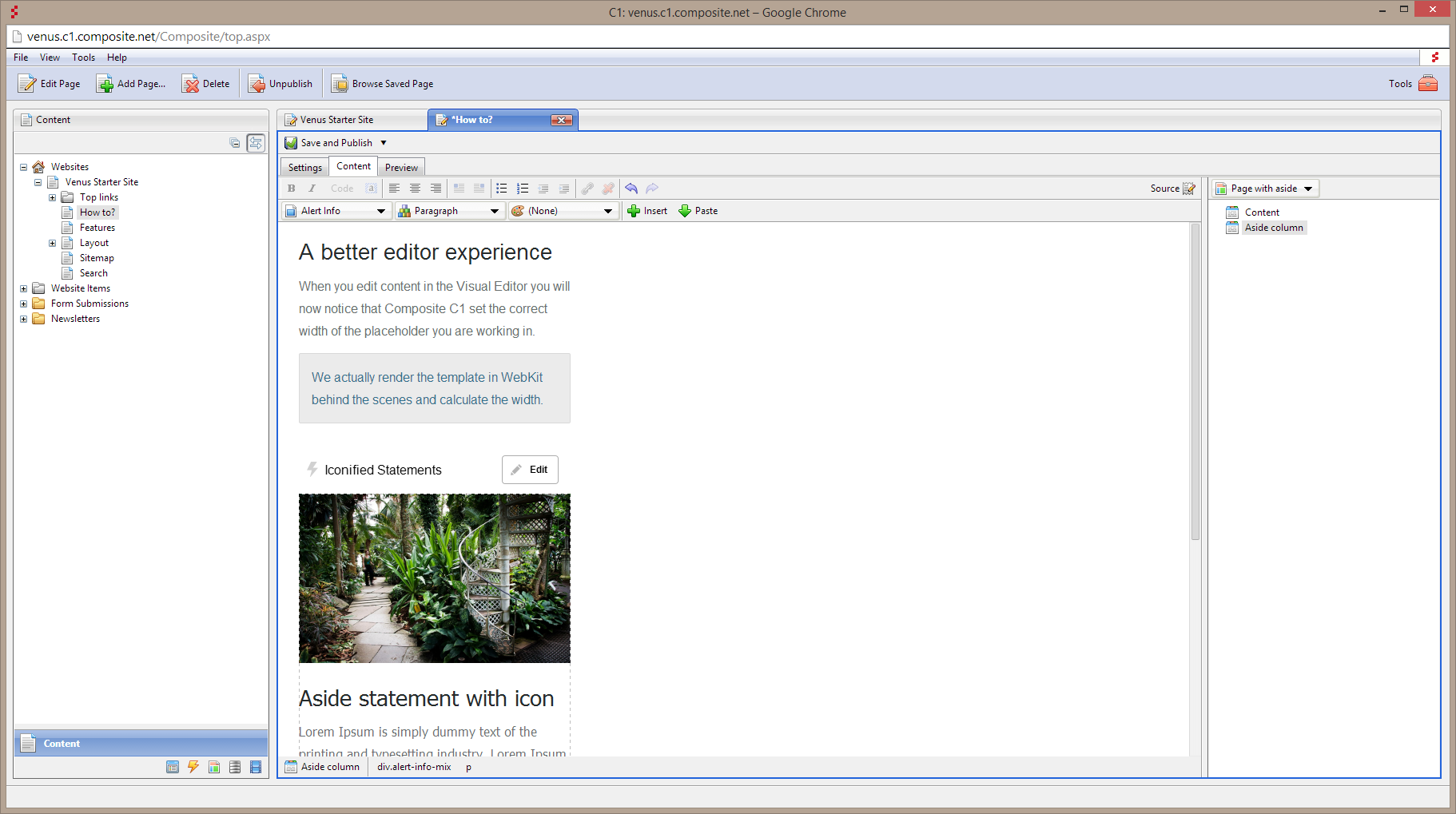 "It's important editors get a realistic idea of how their content will appear when it's published on their websites. That's why we focused so heavily on this aspect in the new version of C1 CMS," said Orckestra CEO, Oskar Lauritzen.
Begin with a mobile-first starter site
You might already be familiar with Venus. If not, we recommend you check it out. It's the first of many ready-to-use mobile-first starter sites - based on the latest version of Bootstrap, LESS and ASP.NET Razor - we'll be rolling out in the near future. We're providing you with an easy-to-use, highly-adaptable starting point to help you get your web projects off the ground.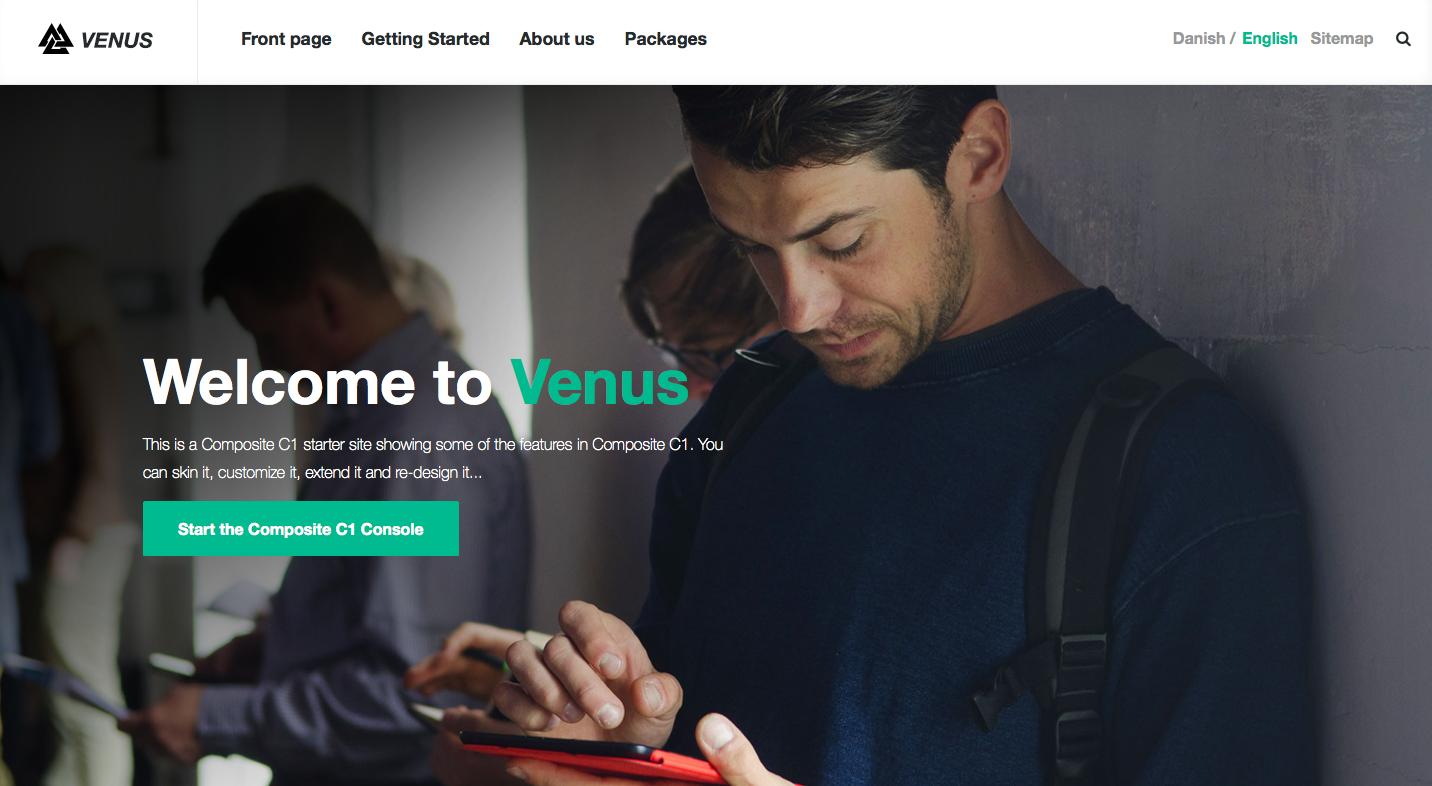 "The beauty of Venus – and the other starter sites in the pipeline – is that you don't have to be a gun developer to create a website. We've done all the hard work for you. Venus comes with step-by-step instructions that enable you to adapt and customize it in whatever way you like. Marketers will love Venus and its sister sites and feel empowered by them," said Orckestra CEO, Oskar Lauritzen.
Have a play and let us know what you think.
Edit on an iPad
Although users have been able to use C1 CMS on other tablets (Windows 8 devices such as Microsoft Surface and Android devices) it's only with the release of version 4.2 this can now be done well on iPad.
"You should be able to update your C1 CMS Website from whatever device you want. More often than not these days it's not a desktop or even a laptop, but a tablet. It's very pleasing to us that we can now offer this facility on iPad," said Orckestra Founder and Product Manager, Marcus Wendt.
Two more cool things available with this release
Developers get the latest tooling with .NET 4.5 and latest version of ASP.NET Razor
View your data in tabular form with the grid editor
Free upgrade
If you are using one of the 4.2 beta releases you can upgrade to the latest release in a matter of seconds for free.
Using an older version of Orckestra C? Sign up for one of our plans and get easy access to the latest features and fixes and at the same time support our Open Source project.
Links