Content Versioning
Created by Orckestra
Content Versioning User Guide
Restoring Deleted Content
You can restore deleted content items from the Content Modification Log.
The following content items can be undeleted:
Pages
Media files
Global data items
Page data folder items
To restore a deleted content item:
Open the Content Modification Log from the System perspective.
Locate and select a content item (for example, a page) with the "Delete" activity.
Click "Restore" on the toolbar.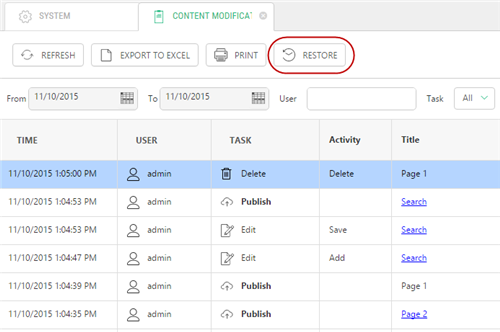 Figure 28: Restoring a deleted page
The item will appear in its corresponding location.
The versioning history will have a "Rollback" task logged for this operation.
Figure 29: A page rollback logged
Limitations and recommendations
Please take into account the following recommendations and limitations when restoring deleted content:
The following page-related data is not restored when a page is restored:
Its subpages if any
Its page metadata
Attached page data folders
Data attached to the page via page data folders
Attached CMS Console applications (tree definitions)
Data attached to the page via CMS Console applications
On single-language websites CMS pages are restored as root pages, which you are informed with a respective message about. You may want to move the restored page to its original location manually.
On multiple-language website, CMS pages are restored to its original position provided that the page still exists in at least one locale.
CMS pages and publishable data items are restored unpublished.
To restore a global data item, make sure that the global data type is still available.
To restore a page data folder item, make sure that the page data folder it belongs to is still attached to a page.
Media files will restore the original folder structure if it has not been kept.
Back to top
Have a question?
10:22 AM
(Local time at HQ)